Prayer Requests:
1 – A quiet night tonight. REST for everyone. Continued improvement from Gideon on his labs.
2 – Successful, quick & easy surgery early in the morning tomorrow!
3 – We are opting in for a study that's going on right now in 3 different cities for babies 5 months and under to receive a synthetic hormone post op which has many benefits and zero risks or negative side effects. It's a blind, random study, 50% of the kids get a placebo, 50% get the synthetic hormone. We want him to get the hormone because there are only benefits of healing proven in previous studies with it.  So please pray that he gets that and not the placebo.
4 – Please pray for my big boys. They have been abandoned by their mama since I've been at the hospital with Gideon and they are feeling it. I'm feeling it. We all need to hug each other.
5 – Pray for Gideons blood to be healthy. It's not. We don't know why…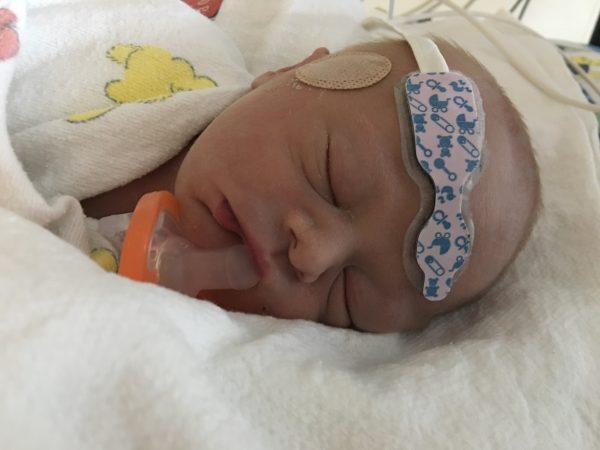 On to the update………….
Well, you already read about the answer to prayer we had about reassurance regarding the surgeon. That was pretty awesome. Meeting him in person was really awesome. REALLY awesome. The surgeon doing Gideons repair tomorrow is Dr Michael Chen. If you want to know more, here is his page: http://www.seattlechildrens.org/medical-staff/jonathan-michael-chen/
He seems to be an amazing man (of course, he's head of all things pediatric cardiology and has won multiple awards including Seattles Top Doctor for 3 years in a row and who knows what else) but we loved his personality and his presence, his confidence, we just liked him. He's a likeable guy :)
The plan is for surgery tomorrow morning. Friday 1/19, he is the first case at 7:30. They are doing a mid line sternotomy (open the chest through the sternum) but only fixing the external structures of the heart tomorrow. The aorta (in 2 places) and the pulmonary artery. He does not have to have his heart opened tomorrow. He will be put on bypass and cooled, have the external structures repaired, hopefully closed back up, warmed, taken off bypass and delivered back to us in great shape. The surgery should take about 3-4 hours, plus the time to prep-start lines-cool, etc so the surgeon expects to be done around lunch time.
I'm learning very quickly that I don't do what I plan to do up here, time flies by multiple hours in a row and I get absolutely nothing done that I had on my list of things to do (read, rest, walk around, post an update, eat food, take a shower, etc). So, while I would love to say I will post an update about surgery tomorrow afternoon around lunch, I know that's just not going to happen. Heck, this post you're reading right now was started almost 24 hours ago and hasn't been posted yet. So there you go, that's how quickly you can lose 24 whole hours in the hospital! Lol.
If you want up to the minute updates, and you're on FB, join his prayer page. That's where I post the most because it's quick and it's easy and I can do it right from my phone. Here is the link:
https://www.facebook.com/groups/158210648110517/
If you want to know what you can do to help, PRAY! Send good thoughts, vibes, whatever positive goodness you want to send to us, we will take! A friend has also set up a paypal gift/donation site to help with expenses of food and gas while we're here as well as potential out of pocket medical expenses. Here is her post regarding that:
Here is the post my friend made about the donation site:
As many of you know, Kari and Bo Bradshaw welcomed a darling baby boy, Gideon Robert on Sunday. Although a known cardiac anomaly was diagnosed prior to birth, an additional one presented itself hours after his birth. Baby Gideon was transferred to Seattle Children's Hospital where he is awaiting heart surgery. Several people have asked how they can help? Kari and Bo are the first to recognize the miracle of life and to give their gratitude to God for this blessing. We can ease the financial burden while we await additional ways to serve this incredible family. They are most in need of funds to supplement the cost of food from the hospital cafeteria as well as the cost of gas as they travel to and from the hospital each day. Of course, medical bills also start to accumulate and one has enough to worry about in caring for the needs of a medically fragile newborn without worrying about bills. They are not ones to ask for help, but sincerely would appreciate a small donation at this challenging time. (Thank you for your generosity!!).
In order to reduce fees for both those donating and to the Bradshaw family receiving, a PayPal account has been set up where Kari and Bo can access 100% of every penny gifted to them. If you feel compelled to donate to their cause, please use www.paypal.com.
1. Log into your account
2. Go to the Menu on the upper left-hand side
3. Select Send and Request
4. Select Send to Friends and Family in the US
5. Enter their e-mail kari@thebradshawcrew.net
Let me know if you have any issues, or questions, and thank you all for your continued prayers and support!
Please feel free to share this info with those who have expressed a desire to help.
Gideon had a great day today.  He got lots of things removed and looks like a normal, healthy baby for the most part. His blood #'s have improved (they draw in the evening for day shift and 4am for night shift). He will have 1 or 2 more draws before surgery which are traumatic because he does have something unknown with his blood they are investigating and it makes him near impossible to draw on be it a heel stick, venous puncture or arterial puncture. It's just traumatic and it won't be an issue after surgery when he has his big central line in but for now, it just sucks. They were able to remove his bair hug heater (the big plastic tube surrounding him) today as well as the bili lights so Bo and I look forward to holding and snuggling him tonight since he doesn't have to be under the lights anymore. He is not on any oxygen and is maintaining his temperature well on his own. I pray this positive trend just continues to increase for surgery and moreso for post op time.
We can not thank you enough for the continued support. We know so many people are praying for him and thinking of us and have helped financially, Bo and I keep reading notifications, comments that are posted, shares of the blog with kind words, scriptures that are sent to encourage us, notifications of donations, just so so so many blessings and we just sit in awe and cry at how blessed we are. We may be in a bit of a storm, but we are blessed and cared for by a big God who is using all of you to help us through. You are helping. Your prayers are heard. Your thoughts and love are felt. I wish there was something more that I could say to express our deep gratitude and appreciation we have for all of you supporting us. I'll have to keep thinking of what that is….
Much love,
The Bradshaw Crew – Kari