Gideon had a fairly uneventful night. Other than peeing on multiple nurses a few times,  good boy! That's good kidney function right there! They tried to wean him off of the paralytics again (the medication they use to paralyze you for surgery) and he did not tolerate it again. His lactates rise up too high so they have had to re-paralyze him a few times now and are just going to have to go very slowly with the weaning process for him. Apparently he needs a bit more rest. His last CBC was within normal limits (yay!) and his lactates had reduced again since they put him back on the paralytics (yay and boo – good that they got the # back down, bad that he can't keep it down without being paralyzed). They plan to reduce his epinipherine just a little bit today and see how his heart responds to that. He looks much better without the chest tubes in.
Continued prayers for him are that his lactates remain low, his blood #'s remain within normal limits even as they continue to wean him off of some of the medications he is on, continued positive trending and for comfort.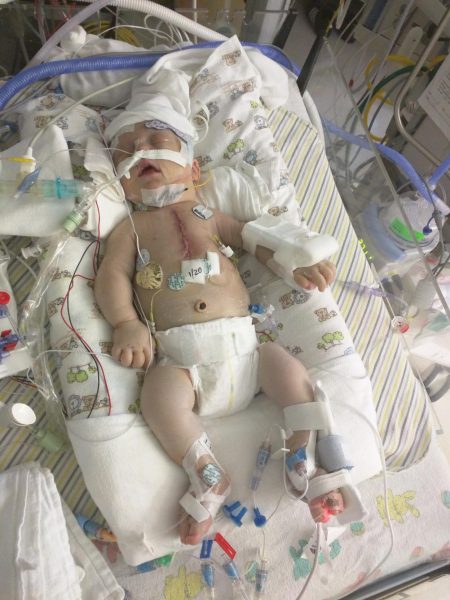 I am still in 'isolation' at home. I am feeling better but not well enough to be around anyone yet. I did get some good rest last night in my own bed which felt like the most comfortable bed I have ever laid in before. One of my neighbors just dropped off food for me for the day and another neighbor is picking up a clicklist order from Fred Meyer for me so I have a bit more food in case I'm here for the rest of the day or tomorrow too. I sure hope not to be but I need to be healthy and well before I can see any of my kids. It was shocking to come home realizing I haven't been here for a week, most of the food has spoiled in the fridge, the house is still clean since we had a house cleaner come clean it while we were in the hospital giving birth so that was nice to come home to.
Continued prayers for complete healing and wellness for me. Please continue to pray for the big boys too and Nana & Poppi who are still caring for them. They are such awesome kids but they are exhausting, especially for a nana & poppi to have them for so long.
I will keep trying to update the blog regularly for those of you who don't have Facebook, but that is the quickest and easiest way for me to get updates our so there will likely be more updates on there than there are on here.  Here is his FB prayer page: https://www.facebook.com/groups/158210648110517/
How can you help?
PRAY. Please. Through all of this, we have been so blessed by God. We  know He hears our and your prayers and we can't thank you enough for lifting us up in prayer. Gideon & mommy need rest & healing!
Donate blood. Gideon has had so many transfusions and has used a ton of donated blood. Please consider giving blood, the donations that have been used for him have very literally, saved his life. Please consider donating blood for others like him who need lots of help with their blood.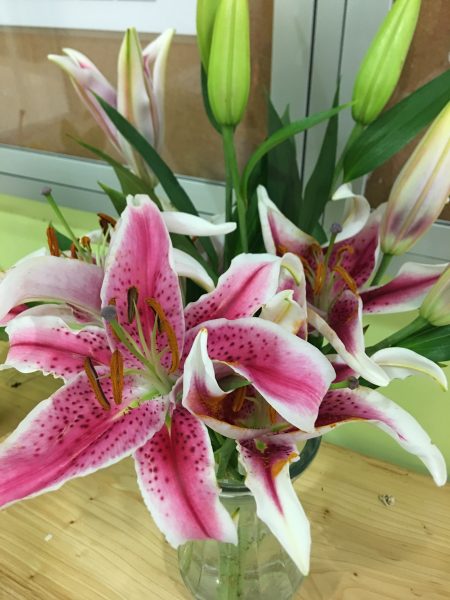 There is a donation page on Paypal a friend set up to help cover the costs of food and transportation while we are staying at Childrens as well as any uncovered medical expenses. So many people have asked if they can bring us food, have flowers or balloons delivered but we can't have that quite yet while we are still in intenstive care. There are no food/drinks allowed in his room (his room actually doubles as an operating room if there is an emergency, they do surgery right in his room with the OR team so it has to remain sterile). Bo had an unexpected visitor the other day who bought me the most beautiful flowers, they are so gorgeous but sadly, we can't even bring them in the door of the unit at all so they are brightening up the lobby outside his unit where everyone around can enjoy them as well. Here are the instructions for the Paypal donation site:
As many of you know, Kari and Bo Bradshaw welcomed a darling baby boy, Gideon Robert on Sunday. Although a known cardiac anomaly was diagnosed prior to birth, an additional one presented itself hours after his birth. Baby Gideon was transferred to Seattle Children's Hospital where he is awaiting heart surgery. Several people have asked how they can help? Kari and Bo are the first to recognize the miracle of life and to give their gratitude to God for this blessing. We can ease the financial burden while we await additional ways to serve this incredible family. They are most in need of funds to supplement the cost of food from the hospital cafeteria as well as the cost of gas as they travel to and from the hospital each day. Of course, medical bills also start to accumulate and one has enough to worry about in caring for the needs of a medically fragile newborn without worrying about bills. They are not ones to ask for help, but sincerely would appreciate a small donation at this challenging time. (Thank you for your generosity!!).
In order to reduce fees for both those donating and to the Bradshaw family receiving, a PayPal account has been set up where Kari and Bo can access 100% of every penny gifted to them. If you feel compelled to donate to their cause, please use www.paypal.com.
1. Log into your account
2. Go to the Menu on the upper left-hand side
3. Select Send and Request
4. Select Send to Friends and Family in the US
5. Enter their e-mail kari@thebradshawcrew.net
Let me know if you have any issues, or questions, and thank you all for your continued prayers and support!
Please feel free to share this info with those who have expressed a desire to help.
Again, I can't say it enough, we can't thank you enough for the support you have given our family. We are so blessed, even through the trials to be so loved on and encouraged and cared for during this very difficult time. We appreciate you all so much and I do read every single comment that comes in via the blog, FB or any other means. I apologize if I don't get back to … well… 99.9% of them but we have received a lot of love and we are so grateful and thankful to you for your continued support!