I asked my dad about a week ago what gift he would like for his birthday (which is today). I was very specific and told him I wanted to go to a brick & mortar store, buy a gift that I could bring home, wrap up in a box with gift wrap and give to him for his birthday that he could unwrap and appreciate. He said the only thing he wanted for his birthday was for Gideon to get well and head home. I said of course, but what GIFT do you want? What present can I buy that you don't already have that you need or want. He said again that he wants Gideon to heal up.
Gideon delivered!!! We had rounds early this morning and the Dr at the end of rounds smiled at me and said "today, you will be transferred." Uhhhh, um, WHAT THE WHO!?!?!?! Excuse me? Who? Being transferred where!? When? Me? Us? TODAY!?!? No!!!! Out of the CICU!?!? No thank you!! I nearly cried  and did make her repeat herself. In my defense, she speaks with a very thick African accent so I did need to make sure I heard the right thing. They all laughed (3 doctors, 1 nurse, a pharmacist, nutritionist & internist) knowing I'm just terrified of caring for Gideon although he is hitting all the markers he is supposed to hit on the progression of getting well. They all assured me he is doing very well and we need to start transitioning to prepare to go home eventually. This mama is not ready. He is still only 5 lbs (plus a half), he still has lines and wires coming out of all over him (although they did get rid of his cranial NIRS monitor), he is still very fragile and needs to keep his heart rate down (not scream and cry) or it send him into respiratory distress and all heck breaks loose with all of his monitors. But his labs have all been good for the past few days, he has successfully weaned totally off of the Milrinone, his Lasix is by mouth now, he is on no IV drugs anymore at all though he still has 2 IV lines in, he has remained stable, gained weight, successfully latched and nursed once, takes feedings by mouth excellently and hasn't had any other setbacks or hiccups really since last Saturday. It is time. For him. Not for me. LOL. The nurse told me this morning that now I can order room service and have it delivered to me in the room because we will be able to eat and drink in our room. Awesome! Except I'm still trying to eat healthy and walk the hospital halls for exercise to continue the trend of dropping some more weight since I did so well with that during pregnancy, I'm trying to keep the ball rolling in the right direction. I don't think a big fat plate of biscuits & gravy with a side of bacon being delivered to my room for breakfast would bode well for maintaining that momentum but it sure does sound good.
This is his plan of care for the day: We just got word that our estimated time of departure will be between 1-3pm this afternoon. Yay! Scary!! They will remove 1 of his 3 IV lines as well as his Renal NIRS monitor because that's one other thing they don't monitor on the floor is NIRS so that has to go as well. His toes have been warm for 4 days so that's huge, they used to be little purple swollen ice sausages, now the swelling is gone, they are skin colored and have stayed warm for days.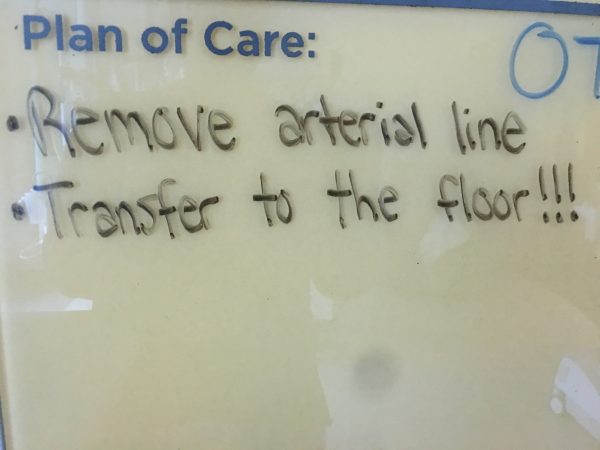 So today will be another big day for us. We are moving. I told my heart mom friend in the lounge and she was excited for me  but sad to see us go too. Our other friend left yesterday, her other friend is also going today, hopefully she will be right behind us and we can hang out in the new unit together when she gets released (again) to "the floor" which should be in the next day or 2.
I'm TERRIFIED. I'm also excited he is making such good progress and gets to graduate out of here. Taking a leap of faith trusting God for his maintained stability, growth and healing and looking forward to what's ahead for us! It's moving day! Yippee!!
Gideon enjoyed his bottle for breakfast and promptly went right back to sleep. Of course… He decided he didn't want to sleep AT ALL last night and we both finally settled in around 6am for the night. Oy. I was up at 8 for rounds, he had breakfast and went back to bed. Maybe I'll nap today too. Taxes? Meh. My book? Meh. THIS is how days go by so quickly in the hospital with nothing getting done…  :)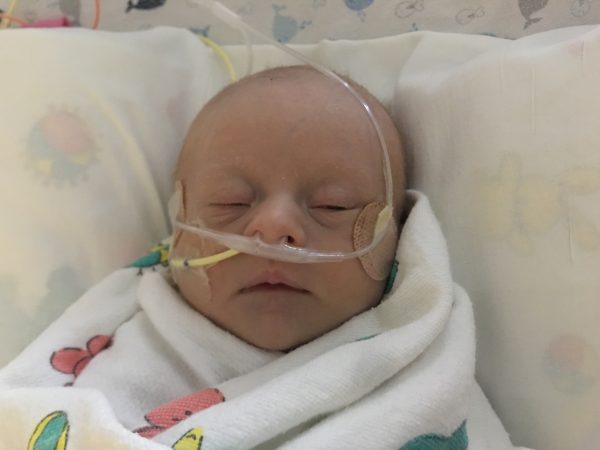 I do believe God is answering prayers in a might way and it's because all of you are so diligent in praying for our specific requests. We can't thank you enough for walking this journey with us and holding us up in prayer. Today, we pray for successful removal of his arterial line and a smooth transition into our new, non intensive care room and for peace of mind for me and comfort for me in handling more of his care on my own. Of course he still needs to behave and have excellent cardiac output, grow and remain stable too.
Thank you thank you thank you and a very special happy birthday to Poppi!