A friend of mine sent me a free code to try the Hello Fresh meal delivery service. I was super excited to give it a try and signed up when there were a couple of dairy/egg free meals coming up so Moses could eat them too. I chose the Family box for 2 meals per week which would normally cost $79.95/week to have delivered to your home. My cost was $0 with the free coupon. Delivery is included in their weekly fee. It's a subscription based service where you chose how often you want delivery, etc. It's not quite in our budget to do this regularly but for free, I'm certainly happy to give it a try! I was very excited when this box showed up on my porch Monday morning! I wasn't sure which of the recipes I was going to get so it's a bit of a gamble but they both looked delicious to me. Here are the contents inside the box as I opened it up.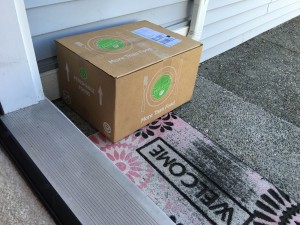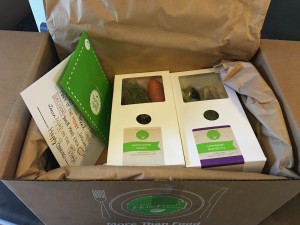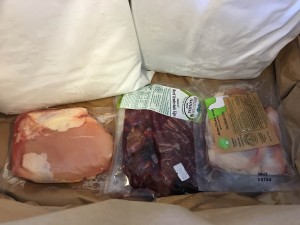 The first recipe was Apricot glazed chicken. I've never made apricot anything so I was excited to try this one.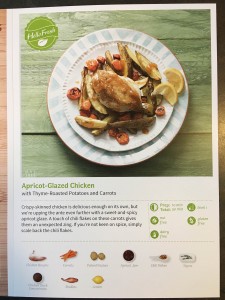 This was inside the smaller individual meal box. The flyer that came gave detailed instructions on how to prepare the meals and a time frame for how long it will take. The chicken meal
stated  it would be 10 min of prep, 30 min total. Ha. That must be for an experienced chef. Here we go: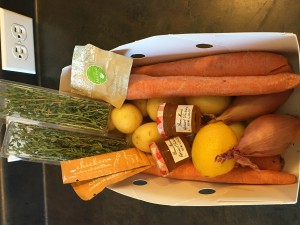 The 10 min prep of wash/dry veggies, peel & chop carrots and chop potatoes too me a half hour.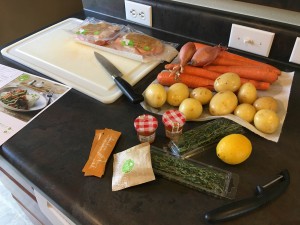 Ready to roast… This was the first time I've ever cooked with fresh Thyme. Stripping the leaves off…. No thanks. I even Youtube'd instructions on the quick & easy way to do this and still failed miserably. It took me way too long and I gave up midway through and actually sprinkled a little of the ground Thyme I had on hand in the cupboard on the potatoes because it was taking way too long.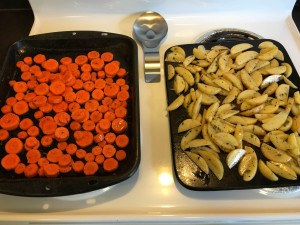 I was supposed to have a pan that I could sear the chicken in then put it in the oven but I don't own a pan that I can use on the stove and put into the oven as well. I might want to get something like that in the future.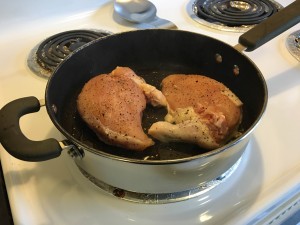 The recipe only called to strip the leave off 1/2 the Thyme. I may have misread them because this sauce is not how their 'glaze' looked in the picture. Also, it was a soup not a glaze that thickened up. Mine never thickened up. I ended up digging out the thyme stems and discarding those. The glaze (soup) was so delicious! I could have eaten it with a spoon. I may have….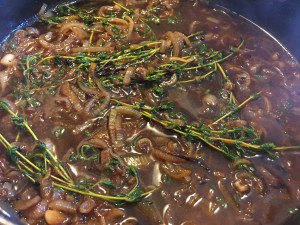 The end result was gorgeous and smelled delicious. It tasted even better than it looked and smelled! I will keep this recipe for sure and do it again!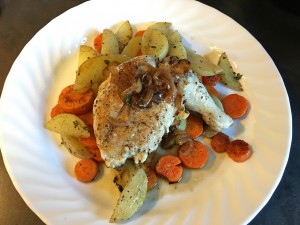 I have to be honest though… This is how I actually served the meal………..   :)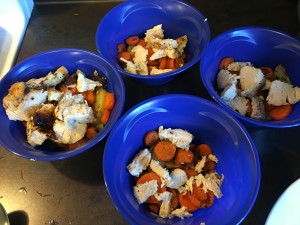 The second meal was a lemongrass beef stir fry. Also yum. I did much better on the prep portion of this one keeping on time even though I had a baby at foot yanking on my pants. I had never seen lemongrass before and had no idea what it was or how to use it. I'm glad the instructions included how to peel and use it or I would have cut the whole thing up like a scallion and eaten the whole thing which I assume, would have been very tough. I also ended up slicing the steak into thinner strips to make it easier for the kids to eat. This meal was also delicious and I will keep the recipe to make again.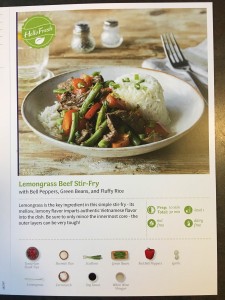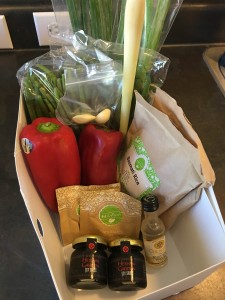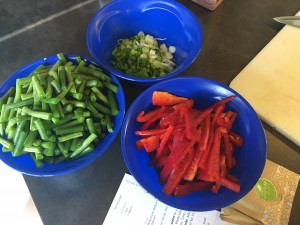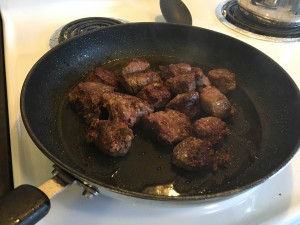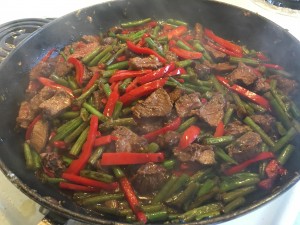 We have  leftover rice tonight which I just threw a can of diced tomatoes on and black beans with some chia seeds, groound flax & hemp hearts of course with some salt & pepper, ground thyme, oregano & cumin. We'll see how that turns out to fill little tummies.
Overall, I loved the service. .The meals were so delicious, not something I would have made just picking a recipe off the internet. The food was fresh, I love that it's pre measured for the recipes already and got me out of our food rut for 2 days. Loved it!
Next week, I'll have something different to review & share with you!