I'm not the type of person who chooses a word for the year or writes out New Year resolutions. I usually try to have a general focus for direction, some loose goals but it's never very specific. As I look back on 2018 though, the word that shines brightly in my head is "dependence'. This has been a year of complete and total dependence for me. On God, on others, on myself. We welcomed Gideon into our family in January and before he was even born, it was a tornado of chaos with doctors and staff and a dire emergency situation with his birth. Immediately following, he was diagnosed with an emergent, life threatening heart condition and we were rushed to Seattle Childrens where he underwent his first open heart surgery at 5 days old. After over a week of laboring (not sleeping), then living in the hospital for a week, I came down with the flu. I had to go home alone, leaving him without me at the hosptial in the care of the physicians, his daddy and God. I was home sick for a week, alone, recovering from birth, the flu, his first week, a lot. I was in complete dependence of God for every breath. I poured over the scriptures during my days in the hospital speaking the Word of God over Gideon, praying endlessly with every breath for his life. I didn't get to see my 3 big boys for 12 days. I've never been away from them for that long. Ever. They weren't expecting that, I wasn't expecting that, my parents and our friends who cared for them weren't expecting that. I was totally dependent on everyone else to care for my kids for me while I was sick in isolation and Bo was at the hospital with Gideon. We spent almost a month there and came home. Started a new normal. A new routine with a medically fragile baby on a feeding pump, lots of medications, healing up from open heart surgery trying to get fat for his next open heart surgery, having therapy every week, homeschooling all 3 big brothers in 2 different co-op's. I can't even comprehend how much help we received those first few months. Dependence on everyone else. Bo and I started really struggling. A lot. We have had a pretty rough go at marriage these first 10 years and have spent the majority of our married lives in counseling. Yet, we still struggled. After the first few months of 2018, it compounded and multiplied.
We participated in a family dedication at our church to dedicate Gideon to the Lord in June. We also had some family photos taken then and, oh boy. The photographer (my friend) who took our pictures is gifted, skilled and talented beyond words. Her craft of photography is unparalleled. Words can not describe what a gift her images are and what they capture. She doesn't get photographs, she catches literal moments in time where you are sucked right back into when you see the image again. It takes my breath away every time I see the pictures she takes. But these pictures, these were different. Not because she was having an off day, but because she can't create  something out of nothing. That's when I really started to realize that I thought our marriage may be over. Seeing those images still breaks my heart and makes me cry, even today. They captured the moment, the feeling, the TRUTH and it was not good. It was very bad. The images were gloriously beautiful images, just not the people captured in them or the feelings. I relied on God to direct and guide our family.
We made it to Gideon's 2nd surgery in July. He threw us for a couple of loops during his recovery process just like he did during the first one. We were only in the hospital for about 18 days this time. More prayer, more help, more dependence, more God. Gideon did well, recovered nicely while slowing down for some speed bumps along the way and we came back  home and tried to get back to a new normal yet again. Bo and I continued to struggle even more than before. The issues worsened, the feelings deepened, the chasm between us grew even greater. We were released from the counselors we were seeing at the time. Ouch. That hurt. I had put all of my eggs in that basket, either they could help us or we were doomed. I was white knuckling my marriage, holding on so tightly to what I thought I wanted, how I thought it should be, what I thought the kids deserved … I was depending on my own ideas in my head and my own strength to do the right thing myself to fix us. It was getting worse.
I am a huge greeting card person. I love snail mail, I love to have something tangible to look at, hold onto, read and keep. I like to celebrate occasions with greeting cards. Even silly ones like St Patricks day because it's fun and you can make something special out of the ordinary. So I'm a huge advocate for making or buying greeting cards for occasions just to do something a little extra special. Bo's birthday was in September. There were no greeting cards on the shelf that had a message that I wanted to say to him. None. I bought something anyways but had nothing to write on my own so he literally got a blank card for his birthday. No "Happy Birthday", no "I love you", no "Love, Kari" NOTHING. I didn't even seal the envelope or put his name on the outside. But he got his card because I am the one that cards are so important to. That was another eye opening experience for me. I had NO words for my husband,  I couldn't muster up ANYTHING.
Days after his birthday, I asked him to please leave. He agreed. I was shocked. I knew there was no way ever that he would agree to leave the house. Leave the comforts of his home, leave his kids, his belongings, it would never happen. But it did. I didn't know what to do. I needed help. 4 kids, homeschool, a house, groceries, laundry, church, co-op, meals, more meals, oh the meals. My boys EAT! Lol. So I started seeing a counselor for myself. Gideon was 10 months old and I got a babysitter for the first time ever (with him) so I could go to counseling. I had to get a babysitter so I could participate in drill for the fire station which didn't happen very often. I was working to fix my own relationship with God because I was able to see just how far I had walked away from Him while Bo was working on himself on his end, living out of the house, away from us. About 6 weeks after he left, we started marriage counseling with someone new. It seems as if all of the work he has been doing on his own for the past 3 months now and all the work I've done for the past 3 months is actually starting to help us now as we start to put the pieces back together for our family. Bo came home last night (to stay) after 3 months and 1 day away. We have been so dependent on others for prayer and practical help, for God for wisdom, guidance, patience, and so much more. And now, we will reconcile our marriage and be dependent on God to fulfill the covenant we made with Him and one another when we said our marriage vows 10 years ago.
So I welcome 2019. I hope and pray it can't be any more difficult than 2018 was and even that it will be AWESOME! A year of reconciliation, a year of growth in the Lord and health for our family both spiritually & physically, but also mentally, emotionally, and relationally as well. I'm shocked that today is New Years eve and Bo just came home and I never even put 2 and 2 together that we can start our new marriage as we start the new year. Pretty cool!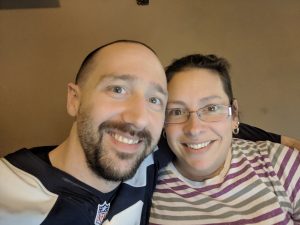 We would LOVE your prayers for our family. I am adding so many names of friends who are struggling to my prayer list as well. It seems as if we struggle alone, behind closed doors and don't tell anyone about it. But how do you? Make a FB post that says "my husband and I are separated, if you want to come hang out with my 4 boys so I can BREATH for 10 minutes, please come over!' lol. Many of you reading this will have had absolutely no idea that we have been living separate for the past 3 months. It's  not something I'm ashamed of, it's also not something you just blast out there to the public world to see. So a lot of people are sitting at home with their kids, posting cute pics of them on social media (exactly what I did), while they are dying a slow and painful death as they watch their marriage swirl down the toilet. I don't think that's how it's supposed to be. I know that's not how God designed it. We need help. We need each other. We need to be able to walk hand in hand with others who can drag us behind or push us ahead but, be with us, and help keep us moving so we don't just rot in our sorrow in our homes, alone, with our kids and an absent marriage.  So yes, please pray for us. We are praying for you too.
May 2019 bring reconciliation, health and joy!
May the God of hope fill you with all joy and peace as you trust in him, so that you may overflow with hope by the power of the Holy Spirit. Romans 15:13