Look ma! I grew! Another 25 grams today! YAY! BIG boy! Granted, he hasn't pooped yet today so we're in for a DOOZY at some point tonight but hey, at least we took his weight before that happens! LOL. Since I'm already talking about poop, I'll share yesterdays story. His nurse (our favorite who I wrote about below) had to attend a meeting yesterday so someone came in to cover for her for 4 hours. She's a nurse who hasn't been on the floor working with patients very much as she is just completing her schooling to become a Nurse Practitioner. So yesterday, she comes to the floor wearing her normal clothes (many of the nurses just wear their normal clothes, not scrubs) and Gideon was her first patient. Long story short, she spent about 10 minutes in our room doting over how cute he was, on and on and on and walked out covered in his poop. Shirt, pants, arms, gloved hands, yep. He got her. Welcome back to nursing!! She came back about a half hour later in scrubs.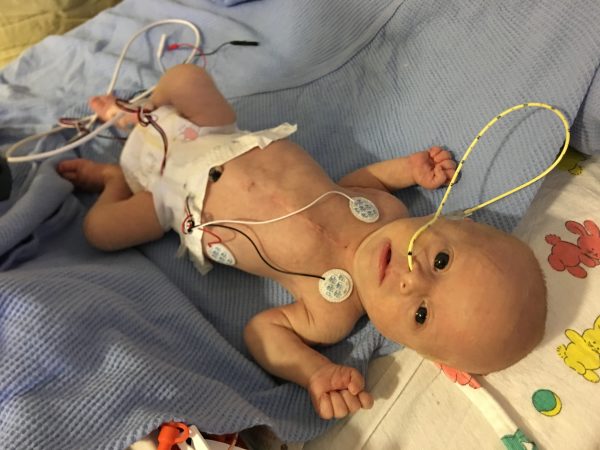 Dreaming of mama milk in mommies arms. No place he'd rather be. Taxes? Meh. Balance the checkbook? Meh. I've got other priorities…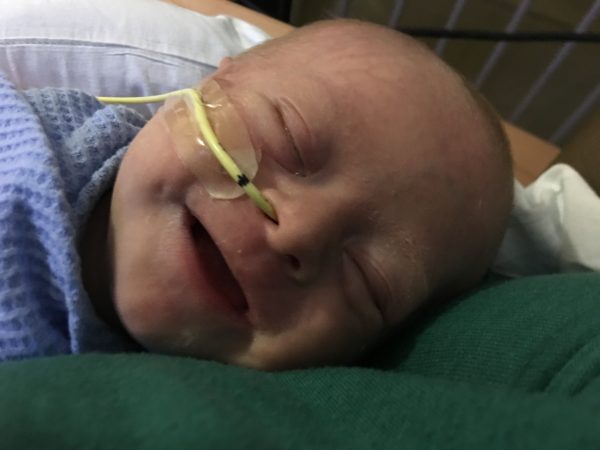 Ok, I'll admit. I cried when I had to say goodbye to his nurse tonight. We've had her for 4 days and she was AMAZING. Seriously. Amazing. I already wrote a letter to her boss to let him know that she was the best nurse out of the probably 50+ nurses we have been in contact with over the past 25 days since we got admitted. She deserves an award and a raise. She has been such a blessing and an encouragement to us, God certainly sent her as a gift to us to help us prepare to break out of here. It's crazy to think that I cried saying goodbye to a nurse who worked with us for only 4 days but wow, emotions, hormones, current situation, I pretty much don't talk to anyone without crying now, I guess it's good we've been in isolation. LOL. We are still possibly on track for discharge tomorrow. Gideon has been stable and his stuffy nose is pretty much gone. They did suction out some bloody crusty boogers from his nose today, probably damage I did from trying to place his NG tube. Poor guy. Medically speaking, he doesn't need to be here. We are still here today to confirm weight gain and make sure Bo and I had the training we need for the NG tube placement and the food pump and another appointment with the occupational therapist. Rounds in the morning should be interesting with the occupational therapist working with the dietitian and cardiologist to agree on a feeding plan. We already have our follow up appointments scheduled so we'll just button up some loose ends tomorrow, pray for a stable night and a stellar day and maybe go home. Yay! Scary! :)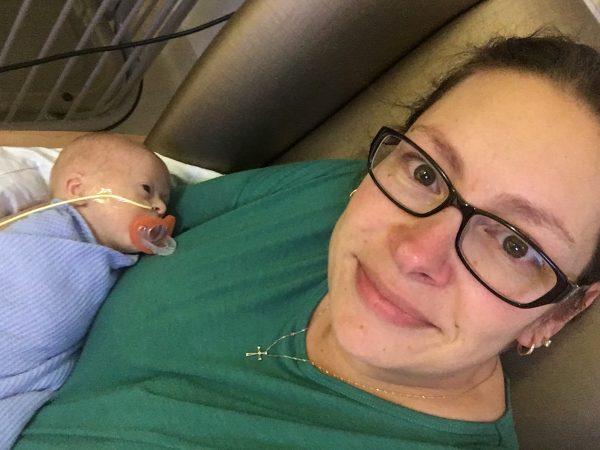 Prayers:
A clean bill of health! No cold type symptoms and continued progress with improved lab #'s, cardiac output, respiratory effort and overall stability and weight gain.
Rest! We all need rest. Lots of it.
A smooth transition home
The other new friend cardiac mom I posted about earlier,  please continue to pray for her daughter to heal. She is feeling better but needs to heal up even more!

Thank you!