Yep, it's 3:30pm and I'm just getting around to the morning update. Oh how time flies.
Gideon is continuing to progress and improve. He is still not yet "out of the woods" they say, but he is showing signs and milestons of improving everyday so that's a good trend for him to continue.
Todays milestones for improvement were #1 – get the NG (nasogastric tube) placed for feedings. CHECK! #2 – start feeds. CHECK! #3 – Have the occupational therapist come check on him to see if he needs a swallow study. CHECK! The tube was placed this morning (or maybe late last night?), the occupational therapist was here working with him when I returned and doesn't think at this point he needs a swallow study done. He doesn't quite suck and swallow right yet, he got milk up in his nose so he's all stuffed up and sounds really congested now which sucks but she said that's common for little guys, especially little heart guys. They will continue feeding him (through a binkie) 3x per day and hope that he picks up on it and gets it down properly so he can upgrade to a bottle at some point in the near future. He is getting feeds through the NG tube as well which is good because he worked much too hard to suck and swallow the little amount that they gave him that they had to stop. It was too much exercise for his body to eat just a tiny bit from a binkie. It may take a few days for him to get it down though. I just hope he can figure out how to keep it out of his nose soon because he sounds so congested since he ate, now he's purring like a stuffed up kitty resting since he's flat EXHAUSTED. Musta been some good momma milk :)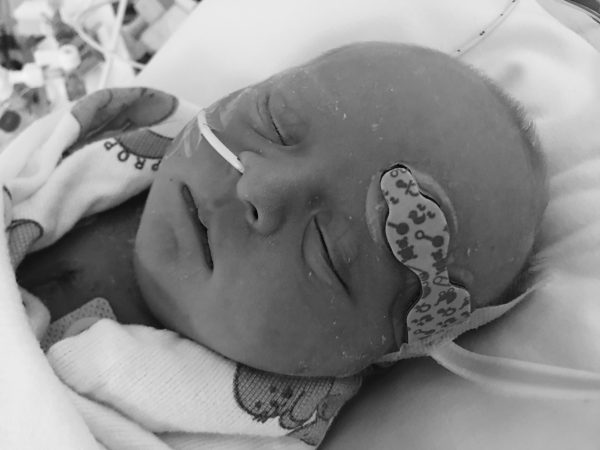 I got the big boys home last night. Hats off to my parents for having them the majority of the last 12 days. Thanks also to Sara & Rachel for helping out and Lisa too. I expected a tough transition home and had planned and prepared to be the most grace filled, compassionate, sympathizing, empathatic mother ever there was, but wow. I did NOT expect what came home last night. Ha. Not only have the boys physically grown bigger since I saw them last, they apparently have forgotten what manners are and have brought home quite big attitudes with their bold personalities. We made it successfully through the night without major incident and enjoyed some snuggle time in my bed before we parted ways to go to sleep for the night. Elijah got to sleep in daddies spot next to me in bed and he was surprisingly the first one asleep! Moses was 2nd to follow but was back up at 130 for some reason crying so he got to join me in bed too since I was too tired to get up and go snuggle him in his bed, I just brought him to my bed too and I had about a 6″ sliver in the center of my bed to sleep in while the big boys slept diagonally in mine & bos spots. LOL. We had some really good snuggle time though, especially this morning.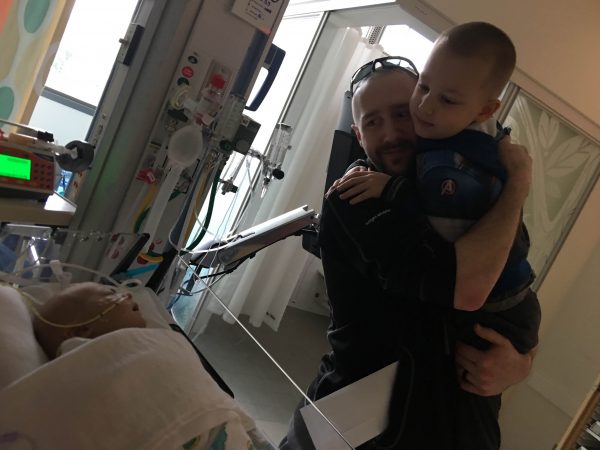 I brought the boys up to the hospital with me today to meet Gideon. They were so excited and they did great. They were quiet and calm, they were so excited to see him in person and say hello and tell Gideon that they love him. It was so sweet. Elijah doesn't quite know what to think yet, I think he's concerned about Gideons "sickness" and how his heart was cut open (his heart wasn't cut open, he just doesn't have the correct understanding of it) and is concerned as much as he is excited to meet him. It was so good for all 6 of us to be together even if it was only for a minute and so good for all 5 of us to be together for 15 more. I can't wait to get all my boys home although I am terrified to take Gideon home, but he's still way too weak and fragile, he's got a lot of strength to get before he will be heading home. He is heading in the right direction!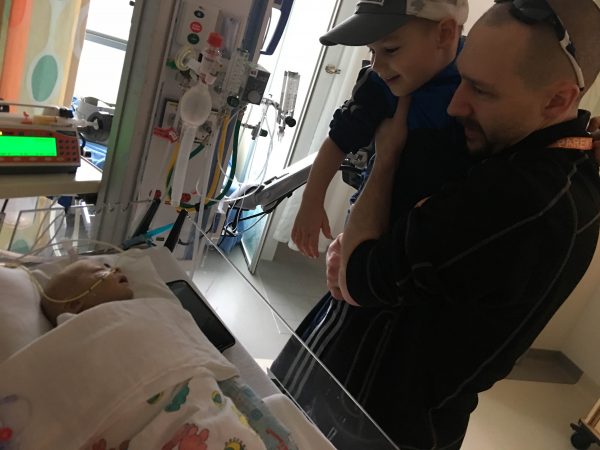 His next milestone will be to get off of the cardiac drug he is on, they were going to try to do it today but decided that his other 3 milestones he hit today were enough for him, they knew he would need a lot of rest and recovery time after that which he does. So tomorrow, they will work on getting him off another cardiac med. His Epi has been off for just over 24 hours now which is great! He is also off the nasal cannula so he is breathing 100% on his own with no assistance and keeping his sats up high enough for the most part. Yay.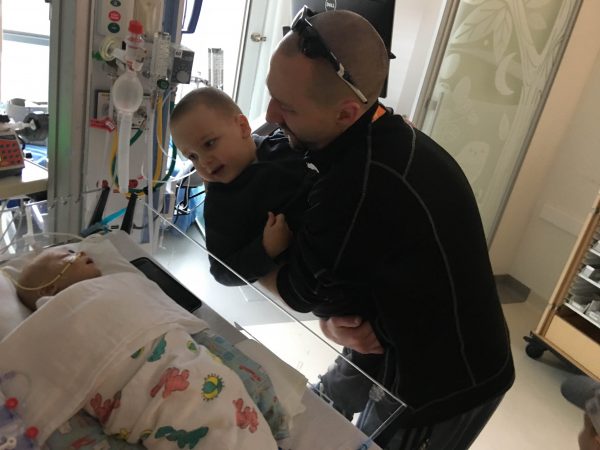 Please pray for continued positive trending for him. Pray for the congestion from the feeding to clear so he doesn't sound all stuffed up. Please also pray for Bos transition with the big boys back home. Bo and I are still so fragile, as are the big boys from all of this, I learned in the first 5 minutes of the kids being home last night they were going to have to learn how to wait. Be patient. Mommy can only handle 1 request at a time and they need to be able to have some patience for me and each other and sometimes mommy needs to take care of herself and all 3 of them need to wait. So please pray for their transition home with daddy and for him as well.
I can also still use some prayers for healing. I'm feeling so much better but am not at 100% yet for some reason. I've got my naturopathic pharmacy here with me at the hospital to continue to boost my immune system and support my health and wellness but I would still love some prayers for continued healing and wellness for me as well please.
Thank you! So much love to all of you!
Kari