We had our pre-op appointment yesterday. It went really well. Gideon had chest X-rays done, labs drawn, vital signs, height, weight, etc. We met with parts of the surgical team, the post surgical team, the anesthesia team, then we got to speak to his surgeon on the phone last night and I spoke with his Cardiologist on the phone this morning.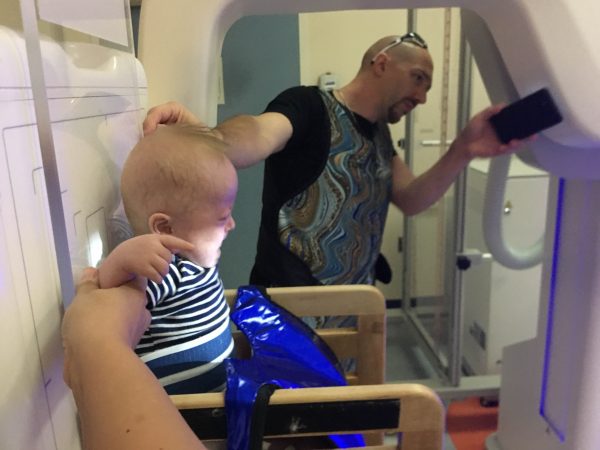 The poor guy has been through a lot this week. He had his 6 month well child check on Monday where he got 2 shots and an oral vaccine. The cardiology team told us to make sure he was up to date on vaccines prior to surgery as that is the #1 most important thing we can do to protect him and his health. #2 is good handwashing habits. He was already fussy from shots the day before then off schedule with eating/sleeping because of all the appointments and running back and forth in the hospital all day.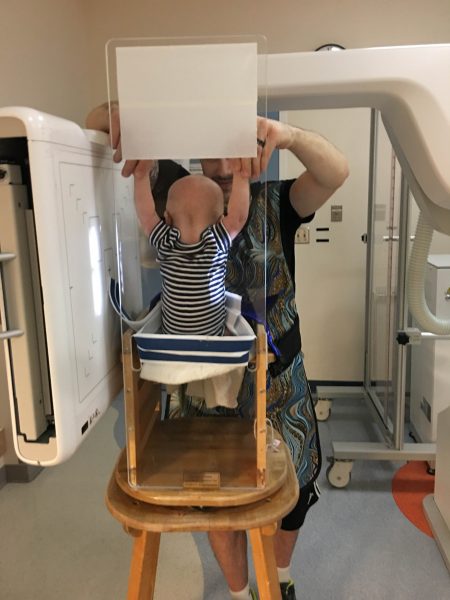 He did good though. His o2 saturation was averaging about 85% which is a bit too low the first few times we checked it. It's an art though, he has poor perfusion because he has no chambers in his heart so his deoxygenated blood is mixed with his oxygenated blood and it all goes to the wrong places so he doesn't have great perfusion. That means his feet can get pretty cold when he's fussy or not totally wrapped up because he has deoxygenated blood flowing to them rather than only oxygenated blood like healthy heart kids. They kept trying to get the pulse ox on his foot and he was cold and fussy and kicking. Long story short, we got it up to 88% later which was great news. They mentioned admitting him early for "respiratory support" as it seems he is growing out of his pulmonary band now, which was the original plan, surgery at 4-6 months to remove the band and repair his heart and he is now 6+ months old so the band has done it's job and it's time to go!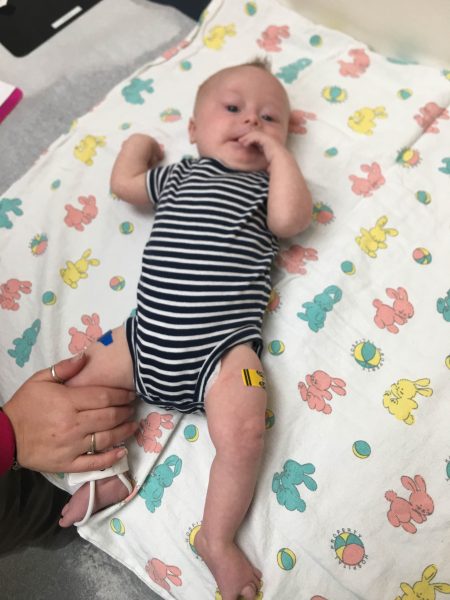 His labs came back showing he is anemic. He will get transfusions during surgery so that should take care of the anemia. The surgical plan is to arrive at the hospital around 6am next Friday 7/27 and he is the first case in the morning. They hope to get started with him around 7:30am. They said surgery could be as fast as 4 hours but they always start late and they always run long so it would be safe to plan 8am-2pm. It also takes some time to re-warm him and get him off bypass then walk him across the hall to the Cardiac Intensive Care Unit where we will be staying for our first while.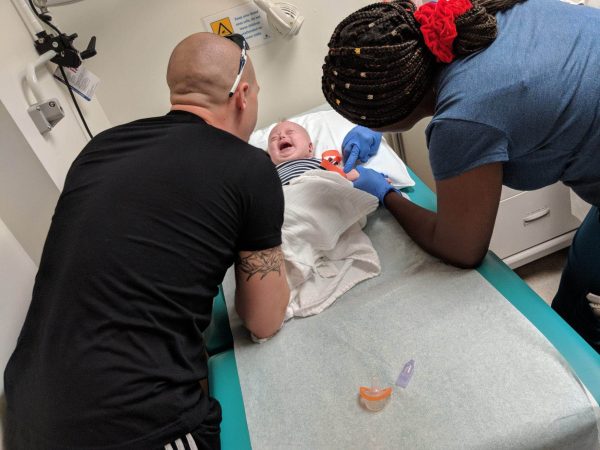 They encouraged visitors to come between 8am-2pm if we have people we want there or there are people who want to be there to support him/us on surgery day. We will not have our room yet so we will have our luggage with us and we hope to get one of the sleeping rooms available for the ICU patients so I can pump milk for him there and we can nap if we get the chance. I don't see either of us sleeping a lot the night before. They said after 2pm, if surgery is done we need to tell our visitors we are done for the day and go be with Gideon. They said we will have an extremely busy night getting him settled and meeting with all the care teams who will be working with him for the first week post op. They very strongly discouraged having visitors for a bit while in the CICU because the rules there are much more strict than in the post surgical unit which we will graduate to eventually and have more availability to visit with visitors and have people see him in his room there but not in the CICU. We can step out and meet people in the lobby to visit but it's unlikely they will go back to see him in his room. In the CICU, we can't have balloons, flowers, food, drink or anything. It's a sterile room becase if there are any complications, they use those rooms as operating rooms so they need to remain sterile at all times. That's why they don't want visitors, food, drink, etc in those rooms.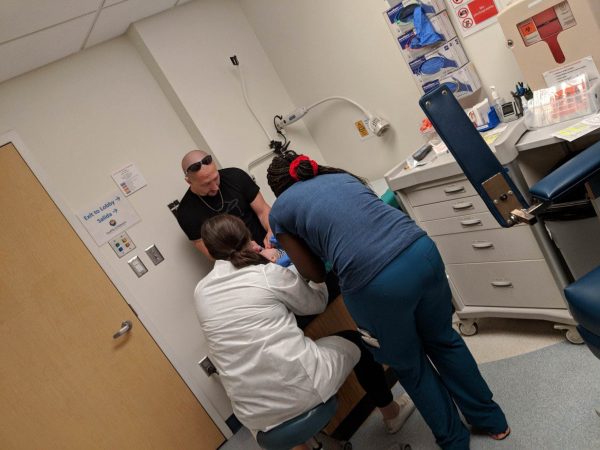 The surgeon feels very comfortable and confident with his procedure. He is optomistic that we will be looking at around a 2 week recovery time. The surgeon and cardiologist both think it's good for us to plan for a month in the hospital but are both very optomistic thinking we may be out in 2 weeks even planning on him having respiratory difficulty (getting off the vent) then switching to high flow oxygen and having to be on the Milrinone again which he got stuck on last time. Neither of them are concerned about those at all which is encouraging.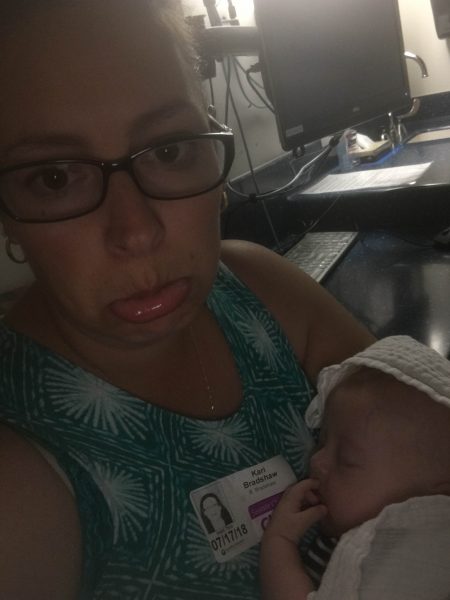 So that's about it! Surgery is in 9 days, I am not ready. The fridge/freezer aren't stocked, my bag isn't packed, my heart and head aren't ready but we will handle it as it comes, do our best, trust God for a sweet time of healing and restoration for Gideon. Our tentative plan is for Bo and I to stay at the hospital with Gideon on Friday and the first 2-3-4-5 post op days depending on how he is doing while my parents keep our big boys. I have childcare arranged for the boys to have play dates with some friends of ours on Monday and Tuesday so my parents and the kids can get a break but they will still be sleeping at my parents. Then Bo and I will take advantage of the $100,000 per day childcare we are paying for and come home together stopping at Costco on the way to stock up the fridge and freezer and go pick the boys up and bring them home. We will get everyone all settled at home and I'll return to the hospital that evening to take the first shift with Gideon alone and we will swap out at some point, somehow, none of those details have been worked out yet. At least that will leave each of us with 1 car, me at the hospital and Bo at home with the big boys. We have an open mind and are being flexible just going with the flow not knowing exactly how it will go, that's ok. It will work out as it should and we trust in that. I'm already starting to get my hopes up that maybe we can come home after 2 weeks but need to be careful not to expect that since it's certainly not for sure. We will need help when Bo is home with the boys and try to schedule help from friends and family to come over and help him with stuff at the house, it's a lot of work having all 3 alone so friends to visit and play games with the kids or play outside with them or help with their school work or just  hang out and help out with whatever they are doing at the time is our biggest need that we know of for now second to prayers. I will try to update the care calendar with specific needs/times as they are known so if you want to help out, there should be opportunities for that. This is the link to our care calendar that is currently empty, I'll update it when the needs arise. https://www.mealtrain.com/trains/7nmnw1
I did find out I will not be receiving any meal vouchers like I was able to get last time since I am Gideons meals and he was inpatient, they gave me some meal vouchers to ease the cost of eating at the hospital everyday. Apparently that's only for 1 hospital stay per person so I won't get those this time. I was given some Nutri System meals to take with me to try while I'm there this time and I have access to a fridge so I'll probably buy some pre-made salad mixes and meat/cheese snack things to keep in the fridge. I am attempging to get back to low carb eating and I really enjoy salads and meat/cheese snacks so that works well for me and is convenient to have there to grab and eat quickly. Honestly, I don't like to go to the cafeteria, I have to walk all the way to the other end of the hospital and get exposed to all the germs along the way and just don't like to go there so I don't often venture out that far away from his room. When I do have to order food, I order from their room service menu and pick it up and bring it back to the family lounge but don't have to go very far to get it, just to the basement in the elevator. We still have some money left from our paypal donations to put towards the cost of our time in the hospital this time around as well with food, gas, whatever else hospital/medical related comes up.
Feel free to post your favorite healing, encouraging scriptures in the comments here or on the FB page (comments on the FB page are easier for me to read then here on the blog page) because I plan to write out my favorites so I have them at a glance rather than rifling through my bible or scriptures book to find them like I did last time.
THANK YOU for following along, for the prayers & encouragement and walking this journey with us!