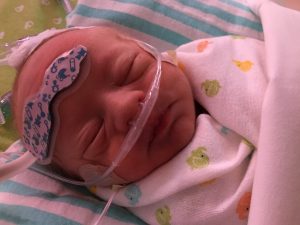 We welcomed Gideon Robert Bradshaw into the world on Sunday 1/14/2018 at 9:41am. We chose his name because it means warrior and we loved his story in the bible about how God protected him and we knew our little Gideon would be up for a battle when he was born. His birth story is quite the whirlwind of craziness that I look forward to documenting and share with you later. We just wanted to let you know that he arrived this morning and we have some prayer requests.
Gideon in the NICU at St Joes Hospital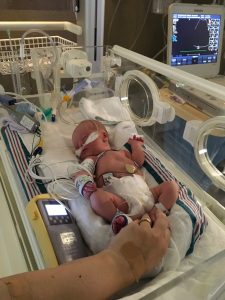 We have already been transferred up to Seattle Childrens for emergency cardiac surgery for him in the next couple of days for a different issue they didn't detect until after he was born. (Coarctation of the Aorta for you googlers out there). We have been so blessed already in that I was able to be discharged less than 12 hours after arriving at the hospital (less than 8 after giving birth) so I could ride with him in the Neonatal Critical Care Ambulance to Childrens. The team here has been amazing, we know we are in the very best place for him and are so thankful for the care here at Seattle Childrens already. We are thankful that our other 3 "big" boys are safe and happy at my parents house and we have peace of mind that they are thoroughly enjoying their slumber party over there and being spoiled and it's such a huge relief to not worry about their care or having to split them up, etc. We are thankful for the timing for how all this has worked out, we've had offers for child care for the big boys to help my parents out this week, we are just blessed beyond measure that we both get to stay up here at Seattle Childrens for the time being.
Preparing for transport up to Seattle Childrens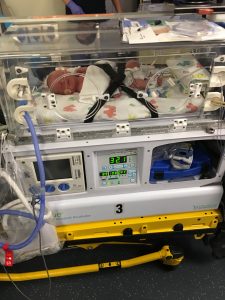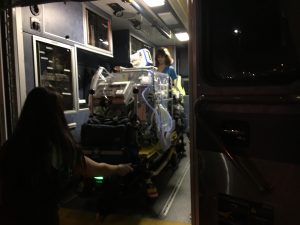 Gideon weighed in at a whopping 5 lbs 2 oz, we don't even know what his weight is. :) We meet with the cardiology & cardiothroacic surgical teams in the morning to review his images (echocardiogram, xray & ekg) and get a repeat echocardiogram and come up with his treatment plan. He could be having surgery as early as tomorrow pending the results of that meeting and the surgery schedule for the day. This would be a totally separate surgery from the one we have planned in 4-6 months, it's much less invasive, as it's not an open heart surgery and requires much less post op care/recovery time.
Getting his first EKG at Seattle Childrens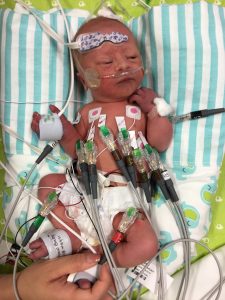 Please pray that he continues to improve his overall health and wellness. Pray for the teams that are caring for him, Pray for Bo and I to get some rest both physical, mental, emotional, spiritual. Pray for my parents caring for our other 3 boys and for them as well and us when we all get back home as a family of 6!
We don't have any needs right now other than prayer. Bo is going to go out tomorrow to pick things up at the house that we will need. We hadn't planned on me being discharged so quickly and needing more clothes and toilitries and food, etc. as well as the breastmilk that got left behind at St Joes that we need to pick up so Gideon can have that up here when he is allowed to have food by mouth.
We will update on this blog / FB page and I will for sure read every single comment that is posted. Right now, I haven't slept for about 4 days (labor was LONG) and we can't quite keep up with all the text messages on our phones but we will read and be thankful and grateful for all the comments here and the ones we receive in other places, even if we are unable to write back to them all. Please know we get them, we are so thankful for your prayers, concern, offers, encouragement and love and are so uplifted by you all, we just need to get a bit of rest right now while we process this all and heal our bodies from the whirlwind time it's been these last few days.
Much love to you all!
The Bradshaw Crew