Today is our 4 week post-op anniversary. It blows my mind that just weeks ago, Gideon looked like this picture on the left. I took the picture on the right at the cardiologists office today. It's been quite a journey these past 4 weeks and it feels like surgery was just yesterday but so much has happened since then.
He was extubated. He went into respiratory failure and was re-intubated. He had an IV infiltrate leaking a bunch of lipids into his foot that caused a nasty case of cellulitis. He came home and got to be reunited with his brothers. He has had 3 doctors appointments in the last 11 days since he got home. We have now discontinued all cardiac meds and are down to a daily dose of vitamin D and twice daily Ranitidine (Zantac) for acid reflux. We pulled the NG tube and he is exclusively breastfed and we will be re-starting solids again to make up for the calories lost in my lack of abillty to produce enough milk for him right now. I'm sure he will be happy about that, he used to really enjoy his oatmeal with pear juice, avocado with cream cheese and extra high fat yogurt. I need to get some groceries for him.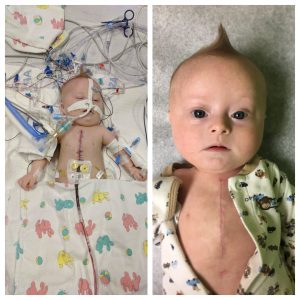 The cardiologist was very pleased with the progress he made this week with his foot. It's still bruised all the way around and there is minimal swelling but he said another week and it will be back to normal again, I don't even need to continue using the warm compresses on it.  There is concern about his lack of weight gain but there are so many variables, all of which I have individually addressed and am doing my best to remedy. He trusts me to manage his weight by myself at home knowing that I have a scale and can weigh him every few days to see how we're doing. I plan to pump and nurse 24/7 for the next 2 1/2 days until Bo goes back to work and hope that's enough to get us into a good routine of making and drinking enough milk to sustain without having to pump all day when Bo is gone again.
I keep thinking about writing a blog about what a journey this all has been for me. An exercise in my faith that has brought me closer to God. I have so many tips and tricks and insight that could help other mamas who are heading down a similar path that I have been on and I want to share with them so they have an idea of what to expect and how it can ease the blow for them. But it's all still a bit too much for me right now. I haven't even begun to process any of this in my own mind or my own heart and I just cry thinking about the whole ordeal and can't even come up with any words to say. I know I will in due time and it will help me to process when I can get it all out there and written out, since that is how I process and hopefully it will help another family. In the mean time, I reach out to them individually and offer encouragement 1 at a time as I'm able to connect.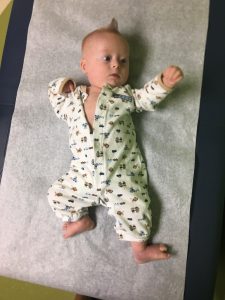 We are doing well though. Sleeping in our own beds. Living the chaos that is life with 4 boys ages 6 & under preparing for a new year of homeschooling a 1st grader, Kindergartner & Pre-schooler. with a special needs infant in tow.  We are joining a 2nd co-op for more educational support for our family and I'm also joining a MOPS group at the church I attend. Trying to get back into life as much as we can while also protecting Gideon and all of the boys from any sickness because we still need to have excellent health in our house. Gideon is, only 4 weeks out from open heart surgery and still has a weakened immune system that will take a while to boost back up again. He is well though, we are well. It's chaos and mayhem, it can be overwhelming and is always exhausting but it's often overwhelming in an awesome way as much as it is in an exhausting way as well.
I have a blog of thanks to write someday as well. But again, I think of the blog title 'Thank You' and the tears just start flowing. Gods goodness is abundant in our lives and your prayers for our family are what's got us through. Someday, I'll have more to say about that but that will have to wait for now too.
Gideon is up and hungry. Time for me to get. So much love, gratitude & appreciation to all of you. Please keep the prayers coming for continued health, growth, milk & adjusting into a new normal again.
Thank you. From the very bottom of my heart.
Kari