When we lost  our little boy back in December, we realized just how badly we wanted that last little Bradshaw to be a part of our family and decided to try one more time to complete our family. We are now exactly half way through my 7th pregnancy (in 6 years) and things look great so far!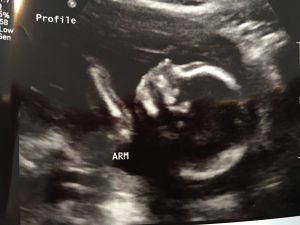 At 20 weeks, baby is measuring right on track and has the cutest little bones we were happy to see last week. All markers look great, I am doing well other than being utterly exhausted which my doctor reassures me is normal for my"geriatric or advanced maternal age" with 3 small children running around at home. No, he is not kidding, he does say it in kinder terms "well, with your age….." LOL. Apparently it's normal to be DEAD TIRED 100% of the time when you're pregnant and almost 40 years old with lots of littles at home and it certainly doesn't help that one of my side effects of pregnancy is that I lose the ability to sleep at night. I do remember the feeling of relief and refreshment we got after our babies got on somewhat of a sleep schedule within the first 8-12 weeks of life and I got 4 hour blocks of solid sleep. I look forward to that again! Anyways, we're doing pretty great. There is a slight chance of a minor cardiac defect that we will be watching and seeing a second Maternal Fetal Medicine Specialist to get another opinion on, but it should be nothing, completely benign and cure itself (if it even exists, they can't even tell conclusively at this point) when baby is born if it lasts that long so we aren't really concerned about it at all.
So …. what do you guys think? BOY or GIRL?? This has been a very typical pregnancy for me, the only symptoms that aren't exactly the same as the previous 6 are that I'm not craving (and often can't stomach) potatoes which is completely the opposite of all my previous pregnancies. Bo likes to joke about how I lived off potatoes previously when I was pregnant and tells people "She would eat all potatoes, potato chips, french fries, mashed potatoes, roasted potatoes, boiled potatoes, baked potatoes, broiled potatoes, barbeque potatoes, potato soup, potato salad, etc." (like the joke from Forrest Gump about shrimp). Not so much this time. This baby is also positioned a bit higher than the boys were. Otherwise, status quo.
This picture is the back side of the right lower leg, ankle & part of the foot.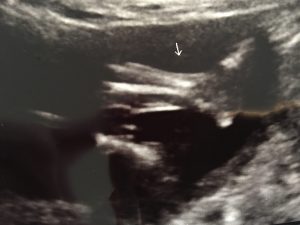 So… place your votes below, on the comments in the blog or on FB, do you think this Bradshaw will be a boy or a girl!? If you get it right, you win nothing other than bragging rights that you guessed correctly! My poor mother and mother in law, they know we have the envelope sealed up sitting at home with the gender results in it and it's killing them! We will open it up soon, maybe that will be Bo's birthday gift this year in a few weeks!
Prayers are appreciated for this little life God has blessed us with. 1 Samuel 1:27 sure rings true yet again… "For this child I have prayed and the Lord has granted me my request."