Due to a stuffy nose, (as well as some other more significant, non medically related issues) we have been moved into the penthouse here at Seattle Childrens. Otherwise known as "isolation". I am sad that the staff now has to gown/glove up to enter our room but am thankful to now be in a room on our own that's a bit safer, has a bit more space and some fresh air! I took a nice hot shower tonight while our night nurse did Gideons vitals then I fed him (via bottle – he did better than ever before), hooked up his feeding pump, checked the line, mixed his fortified milk and set the pump to give him the rest of his 9pm feeding.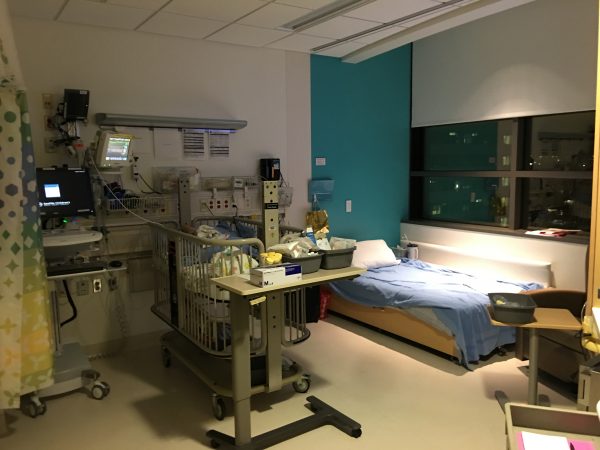 We had a good day today, his sniffles actually sound like they are decreasing from this morning so please keep the prayers coming! We need a sniffle free baby to even consider going home anytime in the near future. His cardiologist is still planning on releasing him on Friday even knowing there is no way I would take him home with a stuffy nose right now so he's fully confident it will be resolved before then. I am praying in agreement with him that he is right! Thank you for joining us in that!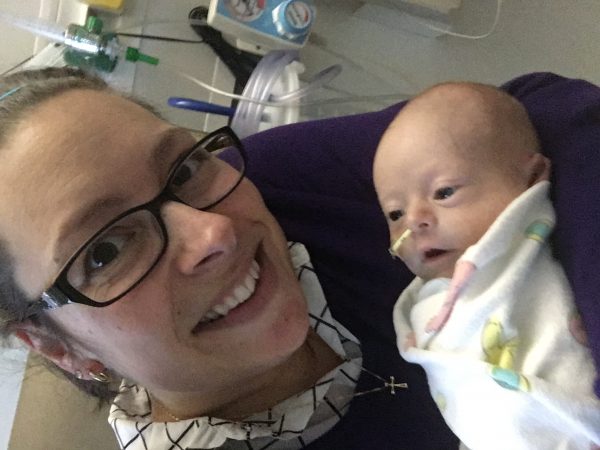 We had a pretty good feeding day today, the goal is to get about 20 ml per oral feed (only 3 per day right now) then do the remaining 25 ml via the pump over the course of an hour. He is only allowed about 10 min to try to drink all that and milk flows pretty slowly out of a preemie sized nipple, especially when it's fortified with powder formula. He took 15 ml by bottle this morning at breakfast which was great. If I remember correctly… for lunch, he only got 4 ml by me but he will get better as we practice at least once each day. For dinner tonight at 9pm, he attempted to GUZZLE very quickly and overdid himself just a bit and pounded 17 ml  in about 6 min so I had to stop him. His work of breathing increased quite a bit and he had milk starting to run down the side of his face. Seeing his appetite increase is fantastic, but he has to be able to eat properly without drowning himself and continuing to breath with some ease as well so he doesn't aspirate his milk into his lungs or throw it all up. So far, he hasn't barfed anything up, that's another prayer for us. No barf. He needs to keep all of his milk and his NG tube down so please pray for no barf.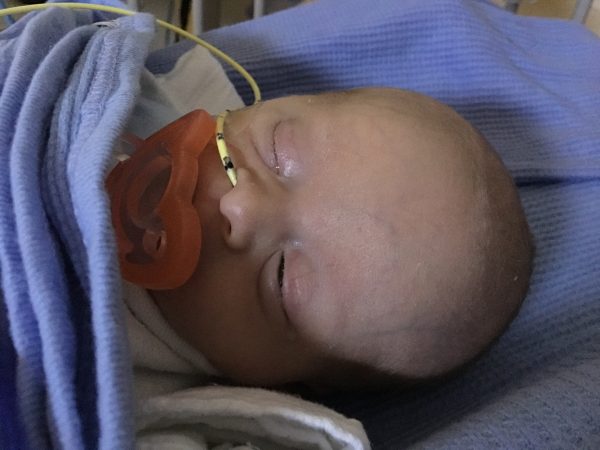 He gained 30 grams today. THIRTY grams!! That's even more than yesterday, his cardiologist will be so pleased in the morning, he may try to kick us out tomorrow if his breathing sounds better but we have training to do on the feeding pump, the NG tube (I had my 2nd unsuccessful attempt today that landed both of us in tears yet again) so please pray for Bo tomorrow, he has to do it too so pray that he is able to do it with ease and comfort for all of us. Gideon is so small, he has tiny little itty bitty nares and 1 of them is shaped in an odd way that even the nurse can't get the NG tube down it. I'm sure she could but she knows how uncomfortable it makes me watching her try so she doesn't and just uses the right one which we know works.
Prayer requests:
–  No cold type symptoms. No boogers,  no stuffy nose. Complete health!!
– No barf and continued progress with oral feeds as well as condensing tube feeds.
– Ease for Bo to place an NG tube tomorrow & our home care training
– Bo at home with the boys. It's hard work, they can all use some prayers :)
–  Rest for everyone tonight. Gideon had a pretty restless day today  and I just got him to sleep, I hope I can follow suit very quickly and sleep all night long. His night nurse tonight is so sweet, I asked her if she would do the pump feeds for me and she said yes. I may only have 1-2 more nights left of having a nurse available to help with that but that's apparently why they are requiring to train Bo on it as well so he is just as qualified as I am to run the feeding pump and mix formula to feed with bottles. This will be my only baby that I'm not 100% responsible for all feedings right now which I'm really actually looking forward to. I can't currently provide him with what he needs because he would have to nurse all day to get the calories he needs to get from me but in doing so, he would lose weight because it's so much work for him so I'm thankful we still have a way to get him what he needs and Bo can participate as well.
Thank you for praying for our specific needs! We appreciate it so much!  Time for bed!
Many blessings from the whole Bradshaw crew!