Whew! Our first outing with Gideon today. Our cardiologist unfortunately wasn't available as soon as we needed an appointment so we had to see one of his partners in the Tacoma clinic, rather than the Federal Way clinic where we hope to have most of our appointments. It's been so long since I've been out of the house with a newborn, I didn't even remember what to pack and hadn't planned on bringing a diaper bag. I'm glad i decided to at the last minute because the tiny backpack we have for his feeding pump isn't big enough to hold much. I was pretty impressed, the only thing we forgot to bring with us were bags to put soiled diapers in so one of the nurses was kind enough to give us an extra lunch bag they store those up for in the clinic. Apparently Gideon gets anxiety poops too… LOL. At least I've pretty much learned how to change him now keeping him completely covered at all times. It's never been difficult to do that before but the way we have to lift him to change him isn't like normal kids where you just pick their feet up to load a diaper or wipe them, because of his sternum, we have to maneuver a little differently to protect his surgical site.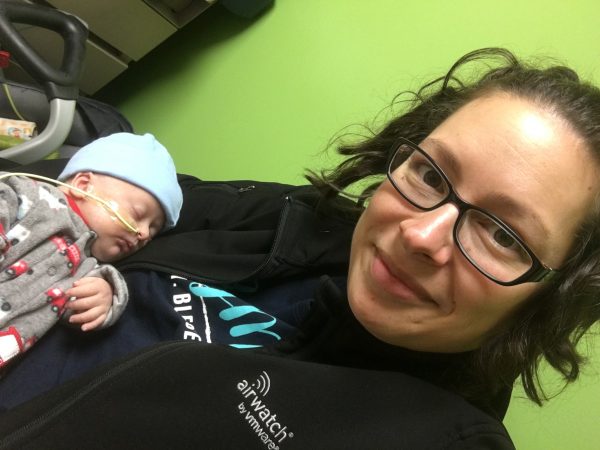 Our first round of good news today, HE GAINED WEIGHT! He is at 5.997 lbs now, growing very well, the doctor was pleased! When we left the hospital on Friday he was 5.73 lbs so he has gained 120 grams in 5 days.  GOOD BOY! The doctor even told us to extend his night time feedings from 3 hours to 4 hours since he's doing so well so we can try to get a little bit of sleep at night. YAY!!!!!!! Thank you God for big and little blessings!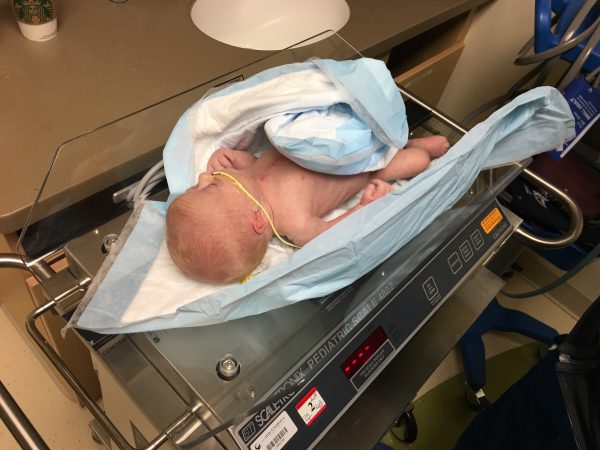 The doctor was unable to obtain good blood pressures from the BP cuff on the upper and lower extremities which is what they will be watching for most with Gideon. Because of the defect with his aortic arch, which they repaired surgically, there is concern about blood flowing well to his lower extremities so he got another echo cardiogram today to check the status of his aortic repair and pulmonary band. His cardiac output looks the same as it did in the hospital and the doctor was satisfied with it. He slept through the echo since he had a dry diaper and a full tummy. We even used his feeding pump while we were there today, the battery works! Lol. More BIG blessings! A good echo report.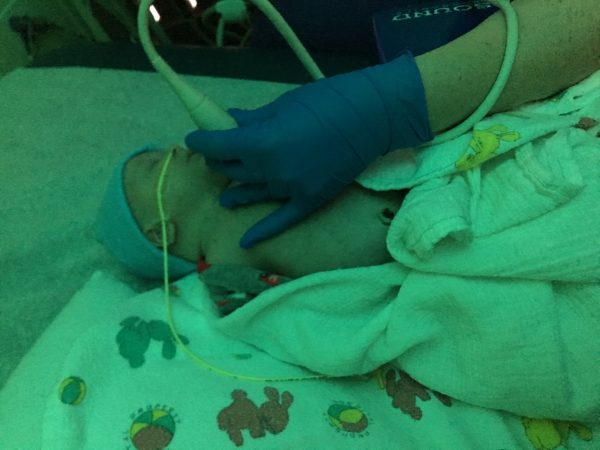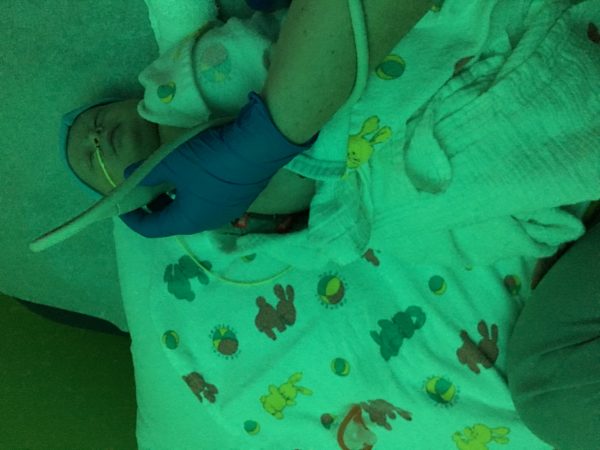 We have to be seen monthly by the cardiology team between now and his appointment (if not more) and we were blessed yet again by being able to schedule his upcoming cardiology appointments with the doctor we love, trust & respect in the Federal Way clinic which is much closer to home for us at exactly the intervals we need to schedule them. Thank you God for working out the scheduling, the doctor and the facility all to bless us!
I still want to post another update about his condition specifically since I know it doesn't all make sense but that will have to wait for another time. The easy way to put it is that his original heart condition that we knew was there before birth, is still there. He is far too small to repair that condition at this point, he needs to at least double his weight and they hope to get him to 5-6 months of age before he has his "big" heart surgery where they will literally open up his heart and re-construct the inside of his heart because a bunch of it is missing right now. The surgery that he had already had nothing to do with his original condition, that was for 2 completely different cardiac anomalies that were found immediately after birth. So we still have a very long road ahead of us with healing up from this surgery, getting strong & healthy to prepare for the next one probably this summer some time.
The cardiologist did say today that we should be over the worst of it for this round. He seems stable, he is growing well, that is basically his only goal is to grow big & strong and stay healthy.
How can you help?
Pray for us. For Gideon to grow big and strong, for our whole family to stay healthy! Pray for us to get a new routine down with caring for his medical needs while also giving attention to his big brothers and maybe being able to do some school work with them and play outside sometimes though we're often hooked up to the feeding pump and not super mobile. We need to keep our marriage a priority as well and not forget we are partners in more than just caring for our kids so prayers for strength and joy in our marriage would be appreciated as well. Please also pray for me to start getting a good routine down as well as confidence and grace to do this all on my own as Bo goes back to work probably next week.
Come over to help. ONLY if you and everyone in your home is 100% healthy. Yes, I know that means many of our friends/family are unable to come over and help because there is a sick kiddo at home, we understand. We don't think you don't care about us, we are more thankful that you're up front and honest and will help protect our family from any sickness by staying away for the time being. By helping at the house, that pretty much means play with the big kids. Entertain them, board games, soccer out back, blowing bubbles, play doh, helping with school work, talking to them, reading books, coloring, water paints, dance parties, just giving them attention. They need more attention and entertainment and love and the biggest thing that helps us out right now is having help entertaining them and making them feel special and important and loved.
Give blood. Gideon went through a TON of blood. He likely will again when it's time for his next surgery. Please donate if you are able to do so!
We have a care calendar that I will continue to update as needs arise. Meals have been such a blessing, I can't even express how much help you have all provided by bringing meals, THANK  YOU! There are house cleaning things on there as well, right now the most help I need with house cleaning is folding/hanging laundry. I can keep it washed and dried, I fail to keep it put away and that takes a long time for me. Here is the link to the care calendar that we have: https://www.mealtrain.com/trains/7nmnw1
There is also a Paypal link for financial donations to help cover the cost of food/gas from our 26 day hospital stay as well as any medical expenses or other hospital related expenses we incur. We have private insurance and have applied for financial aid to help offset the cost but we have no idea what to expect for giving birth in 1 hospital, being transported in a critical care emergency ambulance to Seattle Children's where we lived for 26 days and had our first of 2 heart surgeries for Gideon. 100% of the money donated comes straight to our family and is being set aside in a fund for hospital related expenses only for Gideons continued care throughout the rest of this year as we prepare for another surgery and hospital stay which will also require more time off for Bo. Here is the link and instructions for that:  www.paypal.com. 1. Log into your account 2. Go to the Menu on the upper left-hand side 3. Select Send and Request 4. Select Send to Friends and Family in the US 5. Enter their e-mail kari@thebradshawcrew.netFeel free to follow along by subscribing to this blog (top of this page on the right hand side, you can enter your email address to be notified when a blog is posted) or join his FB prayer page where we have some additional quick updates or pictures from time to time just because it's quicker/easier for me to update on there if I don't have the time to sit down and write out a whole blog. Here is the link for his FB page: https://www.facebook.com/groups/158210648110517/

THANK YOU for the continued support! We appreciate it so much.  The comments on the blog, the fb page, the prayers, the food, the encouragement, the grocery deliveries, the starbucks runs, the cute little clothes, it REALLY does help us out and I wish I could sit down and hand write thank you notes to each and every one of you who have done these things to help us out but I would be sitting writing thank you's forever and not taking care of the kiddos so I can't write now, I feel bad about it but please know, we appreciate you so much, we are so thankful, grateful and blessed by you all. I wish I could say more to express it.