Gideon is just over 3 months post op now! WOO HOO! His heart is fully repaired and he has been doing very well. We have had a few hiccups and bouts of croup, thanks to brothers sharing their germs with him but I hope and pray we are over the worst for this season already. We have had 1 visit with the pediatrician, 1 trip to urgent care, 1 trip to Seattle Childrens ED and 1 call to 911, all in the past 3 weeks. I'm done with this season already! Lol.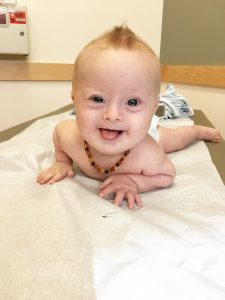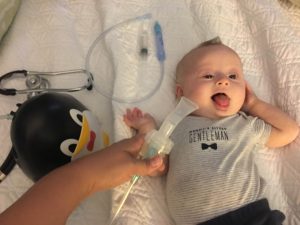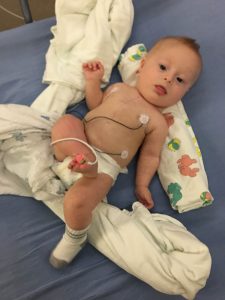 Gideon has taken it all in stride and continues to have a happy dispostion. He really is a crack up. He is learning how to giggle and smiles so hard it looks like his face is going to explode because he doens't let the giggles roll out very well yet.  He is quite a ham and cracks himself up which is hysterical.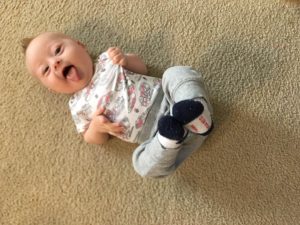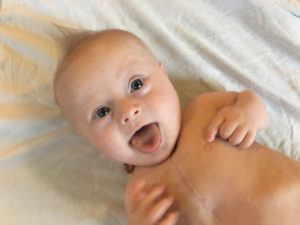 I just recently learned, thanks to the help of friends that he was  all done with the swaddle. I also learned that he needs more food. He's become quite the little piggy! I finally bought baby food in a jar from Fred Meyer. I've never bought baby food for the kids before, I always made my own but I've never had so much to do before and don't have as much time as I used to so I bought it and OH MY GOODNESS!!! How convenient is that!?!?!?! It's the coolest thing ever! Crack open a jar, shove it down his pie hole and be done with it! I do hope to make my own soon and just added sweet potatoes to the grocery list so maybe next week I'll make a little bit of home made food in addition to the oatmeal I make for him. His sleep schedule is a bit out of whack but we're working on it. He generally naps in the morning and the afternoon and it's hit or miss at night. I sleep for either 2-3 or 4 hours. Usually not all in a row. We're working on that as well :)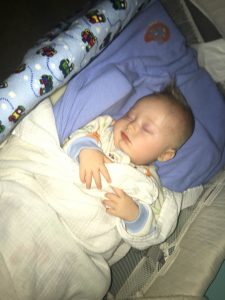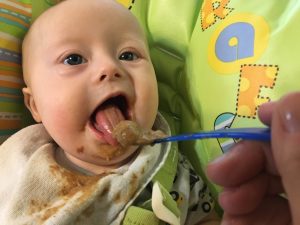 He continues to grow stronger and stronger. He rolls over constantly and is always on his tummy if I put him on his back on the floor. He isn't sitting up on his own yet but that's not too far away. He's started standing up on me as well when I sit him on the boppy pillow in my lap facing me, he likes to stand up. I'm going to have to inquire about leg braces soon as  he has low muscle tone as well as hyper flexibility so his feet actually turn almost all the way around, it's very freaky to see and grosses me out quite a bit. He may need a bit of assistance getting the muscle strength and control in his legs/ankles/feet to have proper positioning to start standing and walking in the future. He seems ready to crawl as well, he has more strength in his legs than his arms so he can usually be found scooting on his face, lol. He's working on it :) We were all excited to be off sternal precautions at 8 weeks and off isolation protocol as well but I think we exposed him to too much stuff so we're back on a modified isolation protocol where we avoid places with large crowds (church, school, etc) and stay home as much as we can. It sucks sometimes. We really miss school and church, those are generally the only times  I see adults and we can't go to those anymore. I'm so thankful we live in a cul de sac and I have neighbors so I do get to see adult eyeballs and have a normal conversation from time to time because I don't talk on the phone very much either. We were blessed to enjoy a beautiful day at the pumpkin patch last week with my parents though, it was a perfect day!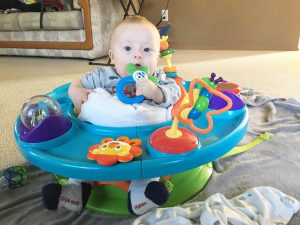 I'm excited to report that the 2 other families I had asked for prayer for are both doing GREAT! The baby in Texas was just able to finally have her open heart surgery the other day and is recovering well, she made quite the turnaround! The pregnant mama who was told her baby wouldn't live had her baby. He lived! He is HOME! In their house with them! He was transferred to Seattle Childrens just after birth where he had some stents put in at the Cath lab and is now home growing and getting big and strong for his 2nd (of 3) surgical procedures he will have on his heart while he gets on the transplant list and waits for a new heart when he gets a bit bigger. Another amazing testimony!
As for us, right now, Solomon has a cold which he is attempting to share with his brothers. I'm pulling out all my hippie stops to try to prevent it. Vitamins, pro biotics, oils, supplement drinks, elderberry syrup, silver, sleep. I am NOT up for another round of sickness in our house. Not at all. Not even a little. Prayers for Solomon to heal and the rest of all to be protected against any bugs and for a HEALTHY season for our family! We are doing well but we could certainly use a bit of a break for a period. We see the Cardiologist again and get a repeat Echo in December and look forward to great results then. Gideon calls, I have to get! Thank you so much for following along and praying for our family! We appreciate you so much!
Many blessings!