WE SLEPT!!!! Thank goodness me! I needed sleep bad. I was getting to a bad place. Gideon and I both slept pretty well for most of the night so I feel like a new person with a great outlook on the day!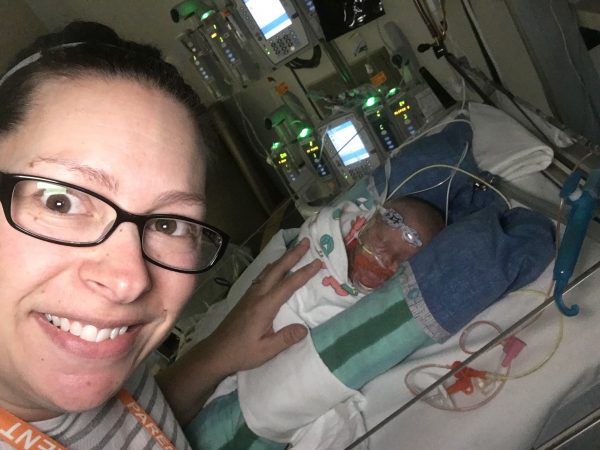 They tried to wean him from his cardiac drug last night which he again did not tolerate so that's a bummer. But, they came up with a new plan this morning to start a new drug to try to help wean him off of it so hopefully over the course of the next few days as he increases the dose of the new drug, he can decrease the dose of the old drug and get off that one completely which needs to be done before we can leave the Intensive Care Unit.
They have increased the calories in his milk again, he is getting breastmilk only but they are fortifyig it with extra protein and calories so he can try to put on some weight. We get to try binkie training (oral feeding) again today after taking 2 days off because he was having a rough time.
They hope to reduce his positive pressure air via the nasal cannula today as well and we pray that goes well.
They have weaned a bit more of his medications and have almost everything switched to being taken by mouth rather than via IV so hopefully, some of his lines can start coming out in the next few days as well as that progresses.
Praise reports:
– We slept!
– He doesn't seem as fussy today as he was yesterday
Prayer requests:
– This new drug will work like a miracle to help get him off the old drug, he will adjust well and his cardiac output will impove greatly to help weaning.
– A comfortable day. Hopefully no fussiness, just a chill, happy, awake day so we can have a chill, happy, asleep night.
– One of his lab values is still a bit too high, we need that # to come down.
THANK YOU THANK YOU THANK YOU for the continued prayer support and encouragement. I fell asleep last night reading Psalm 4:8 over and over and over from the commment on the blog that was posted last night which gave me great comfort. I read every comment here and on the FB page as well so Im sorry I don't reply to them all but I do certainly read them!