Finally! Some good news! We got to see Gideons pediatrician this week as well as his cardiologist. I really like both of them and actually look forward to being able to see them and had happy anticipation waiting for the appointments. Last time I mentioned how every appointment seems to bring a new round of bad news for us, well the thought never crossed my mind for either of these appointments this week. The doctors are so kind, friendly, positive, encouraging and nice, I never once thought either of them would have any bad news for me so that came as a shock this morning when that's how it went at the cardiology appointment.
But first, he had his 4 month well child check with the pediatrician. That went great. He was 9 lbs 1 oz so he has gained weight, unfortunately, he hasn't gained enough to remain on the growth chart curve like he was last month. He dropped from the 3rd-5th percentile down to the 2nd percentile on the growth chart. Not a huge deal, just not the gaining progress that we had hoped for. The pediatrician said to take it up with the cardiologist since he is far more concerned with how much weight to gain and how quickly he needs to gain it. He got his vaccinations and had a fussy afternoon the rest of the day and I pretty much snuggled him on the couch for the rest of the day while the kids watched tv and Bo picked up dinner on the way home from work. All in all, the pediatrician is very pleased with his overall health and how he seems to be doing developmentally. We did discuss his flat head and options for that and have decided to put that on the back burner for right now. He doesn't think it's severe and said we have at least 4 more months to make a decision and we can just hope and pray that with growth, strength and positioning, it will round out nicely. I have some other therapies to investigate that a friend told me about that I'm excited to learn about this next week as well which I had never heard of before.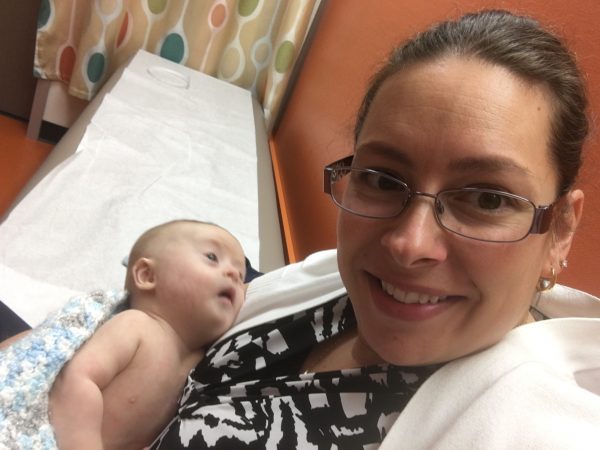 On to the cardiologist this morning. When he asked me how he was doing, I said great. His extremities don't get cold and purple like they did when he was born which shows he is circulating well and that's always a concern and a risk because of the un-repaired heart condition he has as well as the repaired part that he has, if something were to go awry with that, that's one of the symptoms we would see. I know he is growing because his newborn clothes don't really fit anymore but I know he's not growing that fast because size 0-3 month clothes are still pretty big for him. So I know there is weight gain, I just didn't know how much until we saw the pediatrician. The nurse attempted to get a blood pressure on him and after the 3rd or 4th try, she got 68/44 on his lower leg which is not really good. That's actually pretty bad although his blood pressures aren't supposed to be that of a kid with a healthy heart because his heart doesn't pump the blood right so his normal numbers are different than a healthy heart kid. His o2 saturation was also hanging in the upper 70's, lower 80's which is also not great. Again, with his specific heart condition, we never expected his saturation to get as high as it has been since birth, he has always surprised the doctors at how well he saturates having all mixed up blood being poorly pumped around in the wrong direction. Last month he was around 94-95. Putting the decline in weight gain together with the crappy blood pressure and the even crappier o2 saturation, we're looking at signs of heart failure which means a quicker scheduled surgery than we planned. *GULP* Trigger anxiety here, I was NOT prepared to hear anything other than excellence at this appointment. The doctor even came in to talk to us about all that before the Echo but he just said lets wait until we get the pictures back from the echo before we start making any plans. The doctor said he LOOKS great, it would surprise him if the blood pressure and o2 saturation were accurate because his color is good, his work of breathing is pretty good (not great – he always has some subcostal retractions but he was having some intercostal retractions today in addition which isn't normal for him), his pulses are fantastic, upon exam, he looks great, his vitals are just crap so lets hope they are just inaccurate. So they did a 13 lead EKG then we went in for the echo. I had bad belly bart from anxiety.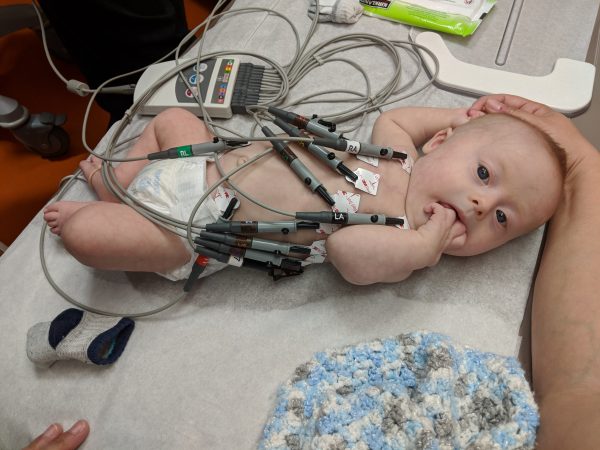 The results of both the Echo and the EKG were fantastic. His aortic arch (that was repaired in the first surgery) looks fantastic as does the blood flow from the heart and the pulmonary band is exactly at the sweet spot right now. Right where they wanted it to be for perfect perfusion. That means, as he grows, he will get less and less blood flow to the lungs because the band will get tighter and tighter then be removed at his big surgery so we have to do the surgery before that band gets too tight but he should ideally be a couple pounds bigger before then if we can make that happen.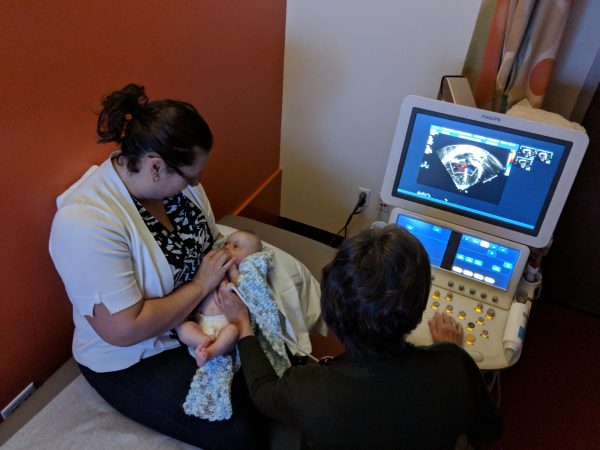 I asked if he had the results from the swallow study and he said yes, he does not want to put the NG tube back in and doesn't want me to stop breastfeeding. He doesn't even know that we need the FESS study (the camera study we are doing in a few weeks) because Gideon is growing and has been very healthy since we've been home, he is thriving, he just thrives slowly, hahaha. We discussed me getting up earlier to get in an extra feeding which I would be ok with, or putting the NG tube back in which no one is ok with, supplementing with bottles which we would be ok with or starting him on a cereal if he tolerates it which is what we decided to do. So I'll go buy him some rice/grain cereal to mix with breast milk and see how he tolerates it to get at least 10 extra calories per day. I'm hoping he will tolerate that well and have no problems with the new texture and swallowing, etc and it will be exactly what he needs to gain an adequate amount of weight to be nice and chubby for a surgery still tentatively planned at the end of July or early August. We want to wait to be able to enjoy the summer but get it done and have recovery time  before cold/flu season hits again because this will be a much longer recovery for him.
Prayers:
Tolerance  with solids & adequate weight gain
Healing of his Plagiocephaly (flat head) without the use of a helmet.
A good appointment with urology next week
A good appointment with  ENT/Audiology/OT the week after for lots of things.
Our marriage, the other 3 boys & home schooling.
We can't thank you enough! Really, we are so appreciative of the love, support, comments, prayers.