We made it to 28 weeks! Not shocking but sort of exciting nonetheless. We met with our doctor who has been in contact with the specialists and cardiologist who we will continue to see throughout the end of the pregnancy. The appointment with our doctor today was so great. We hadn't seen him since we got the official diagnosis, I just spoke with him once over the phone. He is so reassuring, calm, mellow, accepting and kind with us. We spent WAY too much time in his office, I really do feel bad for his other patients but I knew it would be a long appointment discussing all the results and considering what our plan will be. But, we don't know any of that yet. We aren't making a plan until after our next round of appointments with all the specialists in December at around the 32 week time to see if there are any differences at that time. Any changes with the heart, any changes with growth, my gestational diabetes or blood pressure or anything else. I've had gestational diabetes with all my pregnancies but never to this degree and I usually end up with high blood pressure near the end (which was the cause of inducing Elijah prior to 37 weeks) but for the past week +, my blood sugar has been awesome. Thanks to a little medication, a very strict diet & daily exercise. That also seems to be helping my blood pressure which has been perfect the whole time as well and I've even lost a little bit of weight and every pound dropped will help improve that.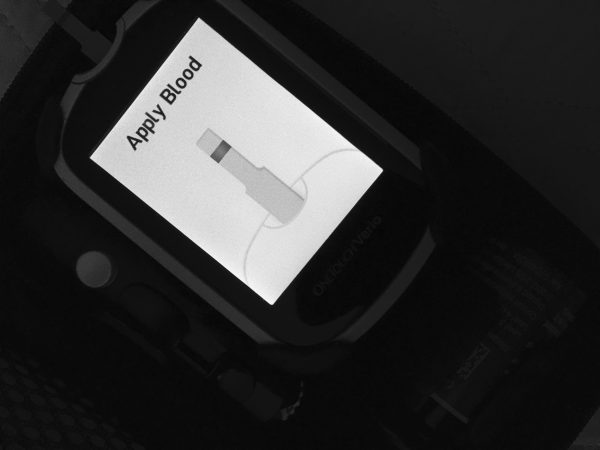 (this is my glucose monitor to check my blood sugar)
Baby boys heart rate was good, right where it should be. He gave the doctor a big kick when he put the doppler on to listen, we had a good laugh at him giving us his 'opinion' of that. LOL. His kick was pretty low which is a bummer because that means he is probably still breech but that won't matter until week 36 or so, he still has lots of time and lots of room to flip over for now.
That's about it. No real news. He is very active, anytime I lay down, he decides to party. I'm pretty sure he's nocturnal. My blood sugars have been awesome, I'm so thankful for that! I'm also thankful for my friend who is a registered dietician and a diabetes educator who has helped me out and another friend who is an OB/Gyn and has given me her opinions/advice as well. I love that I can speak candidly to some friends about this stuff to learn more, get ideas, see a different perspective and since they are friends in the medical profession, they can speak to me candidly and not give me the required medical answers they would have to give their patients. I've reached out to a few other people asking questions who are willing to answer and I'm so thankful people will share with us.
I know we are on prayer lists and chains all over the place, a friend of my parents from their church just took his picture with a prayer request to be placed on the wailing wall in Jerusalem, that's pretty cool too. We appreciate it so much. I can't even express how much it means that so many people are praying with and for us for this little guys health. Keep em' coming, I'm hopeful for some amazing news to share after our next round of appointments about what God can do!
Thank you!!!